Creativitate. Inovaţie. Comunitate. Evenimentele lunii la ClujHub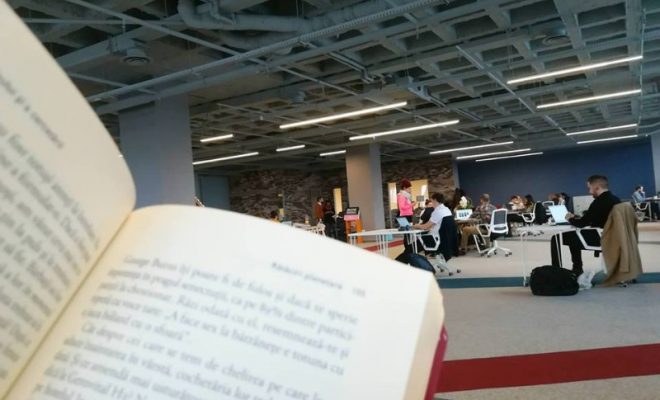 This month, you have zero granting fees for BT Mic Loans! More precisely, until the 28th of April, you can contract a BT Mic Loan with zero fees, for anything your small business needs: working capital, investments or mixed destination.
Everything you need to do now, is to think about the objectives and plans that you have started with.
BT Mic Loans can be granted without a down-payment, after just 3 months of activity.
More information about BT Mic here.
Events organized and hosted by ClujHub in April 2018
WED | 11 Apr | 6.30 PM – 8.30 PM
Cluj-Napoca Smart City Meet-Up #10
Save the date for the next Smart City Meet-Up!THU | 12 Apr | 6 PM – 9 PM
Freelancer Hangouts Ep. 02 – Legal advice
Having a bullet-proof contract is crucial for a freelancer nowadays. What happens if you don't get paid in time, or the client stops answering your messages? What about NDAs, or ownership handover? Freelance Hangouts has your back: we've invited some special guests to give us the ins and outs of how to build your strong legal structure around your freelance activity.
Entrance is free – Registration is mandatory.

SAT & SUN | 14-15 Apr | 10 AM – 6 PM
Urban Life Hackathon powered by the European Space Agency
Are you a student, a developer, an engineer, a designer or simply a person curious about space and the way we can use ESA's open data to improve our daily lives here on Earth?
ARIES Transilvania, Indeco Soft & AROBS Transilvania Software dare you to create an app, using European Space Agency satellite data, in order to map how the climate change is affecting certain domains in Romania.
For 24 hours, we invite you to meet, engage and connect. The hackathon is about trying new things, about experimentation and testing. With an endless supply of caffeine, snacks, fruits and pizza, you have everything you need to build a product in 24 hours. Please register here.

TUE | 17 Apr | 6.30 PM – 9 PM
TEDxClujSalon – "E" for Entertaining
Save the date for the next TEDxClujSalon. The theme is "E" for Entertaining.
TEDxClujSalon is a series of monthly events with the main purpose of sharing and spreading ideas while we will screen the most interesting TED talks curated in the monthly theme.

WED | 18 Apr | 6.30 PM – 8.30 PM
Cluj-Napoca WordPress Meetup
For our April meetup we invite all of you to come share your WordPress questions and issues, so we can try to solve them together. We welcome any type of challenge – from the simplest to the hardest.
We encourage you to bring your laptops, because many times it's necessary to see the code or the back-end in order to be able to come up with solutions.
We're really looking forward to helping you in any way we can. Please RSVP on the Meetup platform.

THU | 19 Apr | 4 PM – 7 PM
Atelier de antreprenoriat Future Makers – Cluj Napoca
Future Makers is an entrepreneurial educational program that includes a competition for future-oriented business ideas. At its first edition, Future Makers is aimed at young people aged between 20 and 29 and will involve over 1500 students and young professionals in thematic entrepreneurial workshops.
The program is funded by the Coca-Cola Foundation and implemented by Global Shapers Bucharest Hub and Social Innovation Solutions. More details on www.futuremakers.ro.
If you would like to participate in one of the future workshops in your hometown, fill in the form.

THU | 19 Apr | 7 PM – 10 PM
Fuckup Nights Cluj // Vol. 2
Save the date for the Fuckup Nights // Vol. 2.
The Fuckup Nights movement started in 2012, in Mexico City, when a group of friends met up and started to share their failures. Nowadays, Fuckup Nights is an international movement which is organised in over 100 cities around the world.

FRI | 20 Apr | 9 AM – 6 PM
Mastering Public Speaking with Amalia Sterescu
The training focuses on positioning the learner as a public speaker on the local market, on the stages of preparing a speech and choosing the right event, on delivering an poignant speech, on the importance of understanding the audience's needs and how to interact with it, using non-verbal language and other means to create a memorable speech.
The program abounds in practical exercises, improving the skills through simulations, examples from Amalia's experience and feedback from the group and the facilitator.

FRI | 20 Apr | 7 PM – 10 PM
Business Networking – After Hours Drinks #3
You will get the chance to socialize with entrepreneurs, representatives of associations and independent businesses, freelancers, or just to extend our network for future projects.
Don't forget to bring your Business Card.

MON | 23 Apr | 6 PM – 7 PM
Book your stay at ClujHub Campaign
ClujHub launches the "Book Your Stay at ClujHub" campaign, whereby you are encouraged to donate books for the ClujHub library, in the collaborative spirit of the entrepreneurial community in the largest coworking and events space in the country.
We plan to collect 2,500 volumes, one book per square meter. Each contribution will be rewarded with free day passes, which can reach up to one week of free stay at ClujHub. Please send the list with the books you plan to donate to victor@clujhub.ro.

FRI | 27 Apr | 8.30 AM – 10.30 AM
CreativeMornings Cluj
April's theme is Game: "The same energy that we spend chasing rewards and likes can be refocused to loving our craft and shipping our best work. Keep your eyes on the journey, not the prize."
Save the date for our next CreativeMornings Cluj meeting and stay tuned for the announcement of our guest speaker.
Registration will open on the 23rd of April, 11.00 AM.
Events organized and hosted by ClujHub in May 2018
THU | 10 May | 6.30 PM – 9 PM
Conferință Andrei Roșu: Ultra-viață, ultra-productivitate
Transform your life radically and immediately and build a better version of yourself, one capable of fulfilling any goal or dream, no matter how great or impossible it may seem. On May 10 discover (and then apply immediately) the way you can reorganize your daily agenda and, furthermore, your life.
Andrei Roșu is 40 years old, has two children and has an experience of over 15 years in the corporate environment.
He is an endurance sportsman, blogger, writer and inspirational speaker, charity event organizer, social project supporter, voluntary blood donor and many others.SAT | 19 May | 12 PM – 6 PM
The New Brandocracy – workshop with Anca Rarău
We will discuss the strength of the brand, the role of each of its pillars, how we think strategically and how we position a product brand or a company in the marketplace.
Also in this workshop we will learn how we integrate the different components of the marketing function, how we evaluate brand performance and where guerrilla marketing tactics can intervene. From terminology, to tactical aspects, and writing the briefing for creative agencies, all the practical aspects of marketing will be reviewed.
We will also talk about the role of leaders and organizational culture in building a strong brand.
Anca Rarău has over 20 years of experience in strategic and operational marketing, customer experience, branding, research, PR, and brand positioning strategy.
Reserve your seat here.